Printing shipping labels from home is the foundational pillar of eCommerce and online shipping.
Fortunately, this part of the shipping process is, in reality, amazingly easy!
There are various printer models and types of paper you can use to print the labels, and many are worth their weight in gold (metaphorically, of course).
This post is a deep-dive exploration of the procedures, techniques, and easiest approaches to printing eBay shipping labels wherever you are.
Why print your shipping labels on eBay at home instead of purchasing shipping at the post office?
In short, you save money by printing your eBay shipping labels at home.
Pretty much every eBay seller does this. By printing labels on eBay, you get to take advantage of their discounted rates, which lets you save money overall.
The costs are much lower than what you would pay at the post office. In fact, over the space of a few years, the money I saved from this was substantial enough to expand my inventory two-fold.
You also save time.
For me, this was even more critical.
Selling things on eBay is my side hustle on evenings and weekends. I have no time to make the extra trips to the post office. Because of this, eBay label printing is a godsend.
Why you should start printing eBay labels from home:
You needn't bother about adhesive labels or printer types—simply print your shipping label on typical printer paper and then glue/tape it to the package.
You can easily add services as well, such as Signature on Delivery.
Your package's shipping information is uploaded on the spot.
You can print USPS, FedEx, or UPS labels from eBay.
Labeling charges are simply added to your monthly eBay invoice.
You can choose from an extensive array of payment methods when you print labels on eBay.
USPS shipping charges will be pulled from your PayPal account. Because of this, you should have a PayPal account on record to pick this option.
Fortunately, there are no extra costs associated with printing a shipping label name on eBay. At the same time, you'll pay a fee on the total amount that the buyer is charged for shipping.
This amount should not be confused for label printing costs, because even sellers that choose to print with local shipping carriers still have to pay the value fee.
Apart from discounts and free printing of labels, you get free tracking.
(The exception to this case is Media Mail, where you pay a similar postage rate as you'd pay at the PO.)
However, shipment tracking is approximately 77 cents cheaper with eBay labels. The savings can be pretty substantial if you are filling out a number of orders on a regular basis.
How to print eBay shipping labels
Perhaps the question is this:
Do you need a special label printer?
Can you use a thermal printer, inkjet printer, or laser printer?
This all depends on the results you wish to get and the money you are willing to put into this.
Overall, remember that shipping labels can be printed on any printer on any paper.
Here are the ways you can go ahead and print them once you have a printer, ink, and paper.
1. Print Label at My eBay
Go to MY EBAY and navigate to SOLD.
Identify the item you need to ship, and next to it, choose PRINT SHIPPING LABEL.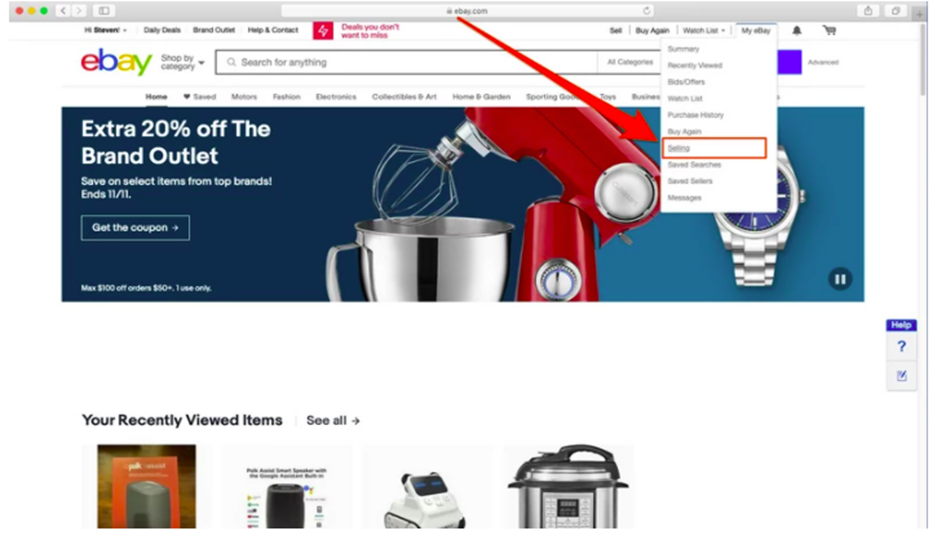 Confirm that both your location and the purchaser's address are accurate.
To edit the SHIP TO or SHIP FROM address, choose EDIT under the location.
Enter item specifications (i.e., type, weight, and measurements).
Pick your mailing date from SHIP on the dropdown menu.
Select the right transportation service, and choose any extra services you wish to add.
Review shipping costs, and then select PURCHASE AND PRINT LABEL.
Follow the instructions to print your shipping label.
You can also print a packing slip following the same process by choosing OPEN PACKAGE SLIP.
2. Print Label at Seller Hub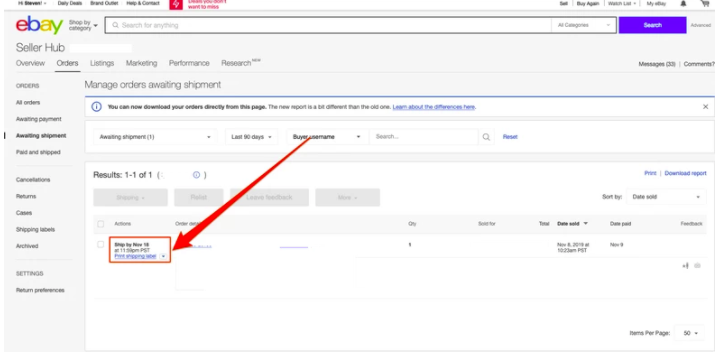 In SELLERS HUB, navigate to ORDERS.
Next to the item you want to send, select PRINT SHIPPING LABEL.
Fill out the form with shipping details, including address, weight, and dimensions.
Click BUY AND PRINT LABEL.
3. Bulk Print Shipping Labels
Printing labels in mass can save time and give you the option to produce a single scannable form the mailperson can use.
In other words, one single barcode can be scanned for your entire shipment, saving you (and the courier) time.
You can mass print labels in batches and print a single scan form for everything once you are done preparing all your shipments for that day.
You can print multiple labels in the MANAGE ORDERS section of the SELLERS HUB.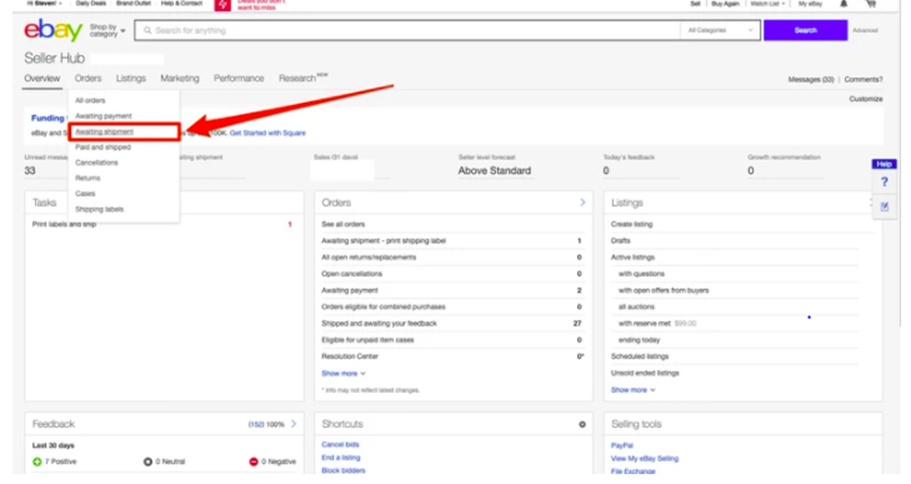 Basically, you would need to go to SELLERS HUB, and then ORDERS.
Check on the boxes next to the various items you wish to ship.
At that point, from the SHIPPING DROP DOWN menu, select PRINT SHIPPING LABELS and INVOICES.
The pop-up screen will show data for every shipment in the cluster. You can adjust specifics, such as:
Item weight and dimensions
Shipping addresses
Shipping providers
You can likewise choose to add protection to special packages from this page.
After you've checked on everything and are prepared to print, click REVIEW PURCHASE.
On the REVIEW PURCHASE pop-up, click on the X in the upper right corner to see the changes made, or choose CONFIRM AND PAY to finish your purchase of shipping labels.
Great job!
Now your labels have been produced and are prepared for printing.
You can choose PRINT A USPS SCAN FORM from the confirmation page.  You can also print each label separately, or download them as a single file.
I find it helpful to print label lists to help ensure that the right labels are used on the corresponding packages. It limits the risk of costly errors.
Things to note when bulk printing eBay shipping labels:
After you print your labels, you won't have the option to add them to a scan form, so make sure you do that in advance.
Once you are ready to print the labels, confirm the printer paper size, color, and scale.
Then click PRINT.
When sending orders in different packages, each package will require a different label.
After printing the first label for the first package, choose PRINT ANOTHER LABEL FOR THIS ORDER on the confirmation page.
You can then enter the weight and measurements for the next package. The subsequent labels will have their own unique tracking numbers, so you will be charged separately, depending on the item weight and measures you entered.
FedEx labels are not presently available in BULK PRINTING. The shipping service provider plans to enable this soon.
The Best Ways to Print eBay Shipping Labels
Now, if you're just getting started in the eBay shipping world, it's fine to print your labels on a normal printer, using regular paper.
However, if you're taking your eBay business to the next level, you might want to invest in a label printer and adhesive labels.
Here are the best ways to print eBay shipping labels …
1: Use a Label Printer and 4×6 Adhesive Labels
The best recommendation and my favorite approach to print labels is using a label printer.
These kinds of printers are designed specifically for printing 4×6 labels, which is hugely convenient.
I use the versatile and portable Brothers QL 800 series, and it serves me remarkably well.
Buying one of these nifty appliances can be a worthwhile investment when you consider the need for speed, color clarity, and connectivity.
Here are the key things you should look for in a good label printer:
For shipping labels, a monochrome label printer will save you from the greater costs of a color printer.
Evaluate the size of the labels you need to print … some label printers have printing size limitations.
Printing clarity is essential, or else your shipping could get lost (this is measured in dpi, a number indicated on the printer's product manual).
Printer volume and speed are equally critical. My printer can churn out 15 labels per minute.
Connectivity options include USB, Ethernet, Wi-Fi, and LAN.
There are many label printers out there.
Some will be ideal for your eBay business, but others will waste your time and money. Use the above criteria to buy the right product for your purposes.
As for the paper, I usually buy the 4×6 adhesive paper, which simplifies my work.
However, any printing paper really can work. As mentioned previously, you can use standard paper and cut it down to size, then tape it on the package.
2. Use an Inkjet Printer with a Letter Size Paper
Chances are, you already have an inkjet printer in your home or office. If this is the case, then you don't necessarily need to invest in a separate label printer.
You can print shipping labels with a basic desktop printer at your home, school, or work.
You would simply use standard letter-sized paper to bulk print your shipping labels, and then cut out all the labels one at a time.
Note that if you have many orders to ship, inkjet printers and standard paper may not give you the speed you need.
Consider a thermal printer.
Key things to note about inkjet printers:
They're accessible and economical.
Their small size fits conveniently in small spaces.
Refilling/replacing cartridges is rather expensive.
They have low-speed printing and low volume paper capacity.
3. Use a Laser Printer
A laser printer can print labels a lot quicker than an inkjet. If you print more than a few labels per day, you'll appreciate the extra speed.
You may also find that the printed text is much clearer with laser printers, even while printing small text fonts.
Laser printers are much costlier than inkjet printers, but they can save you significantly more money in the long run.
Things to note about a laser printer:
They print faster with clearer and cleaner results.
They print more labels and more quickly than an inkjet.
These printers are heavier and take more space than an inkjet.
Toners are expensive to replace.
4. Use a Thermal Printer
Thermal printers stand out from inkjet and laser printers because they are purpose-built to print shipping labels.
They have impressive features such as an inbuilt roll cutter and feeds designed to produce 4×6 labels.
Thermal printers can save you from the costs of an ink cartridge and toner replacement. They use thermal technology in printing, which means no more having to deal with ink spills or unclear print outs.
Things to note about a thermal printer:
Printing eBay shipping labels on standard paper
Yes, this can be a cost-saving approach.
Many eBay sellers operate successful shops with nothing but a desktop inkjet printer and traditional paper.
You can print your labels online using SendPro to reach your courier at a reduced postage price.
Printing shipping labels at a USPS kiosk
At one point, things were tight, and I couldn't afford to buy a desktop printer, let alone a label printer.
I was just starting out on eBay, and so what I did is this:
I went down to the FedEx office to print and ship my labels from there.
I bought the label from eBay using the same processes described earlier, but I would choose to send it instead of printing it. I sent the labels to my email for backup and then to the FedEx store near me.
When I got there all, I printed the code sent by FedEx to my email. (In retrospect, a local library computer would also have sufficed.)
You can print your labels at USPS kiosks, too. It works the same way. The service is linked to your eBay account and, by default, your PayPal.
Note that if you are going to use a printer in a USPS store, you will have to pay a postage fee in advance, and that requires manually signing in to eBay.
Always check size, weight, and shipping address
Printing your shipping labels is immeasurably convenient and cost-effective, but all that doesn't matter if you don't get it right.
I have made mistakes on my labels several times, and then I had to start all over again. That entails submitting a refund request from USPS for the labels or, even worse, shipping an item to the wrong address.
Good organization is the essential ingredient for success here. The final amount you pay the postage is determined by the package's external size, the total weight, and the shipping distance.
My checklist before printing shipping labels on eBay includes:
Checking that ship to and ship from addresses are accurate and up to date.
Reviewing weight and size of the item to be shipped.
Reviewing total shipping costs.
In summary
Printing your own shipping labels helps you take advantage of eBay discounts and save time.
You can print shipping labels from the SOLD tab of MY EBAY or from the MANAGE ORDERS section of SELLERS HUB.
Additionally, eBay makes it possible to bulk print labels for your bulk shipping orders.
The shipping labels can be printed using any printer or any paper, but for speed, cost savings, and volume, a dedicated label printer and 4×6 adhesive paper will serve you well.