Trying to figure out how to do bulk shipping on eBay?
eBay has great potential as a money-making platform if you are interested in eCommerce. For success on the platform, you need to start by understating eBay shipping.
Their policies may seem complicated at first glance.
What is more, bulk shipping significantly cuts logistic costs … but it can be hard to maneuver.
So, let's break it down!
Shipping Options on eBay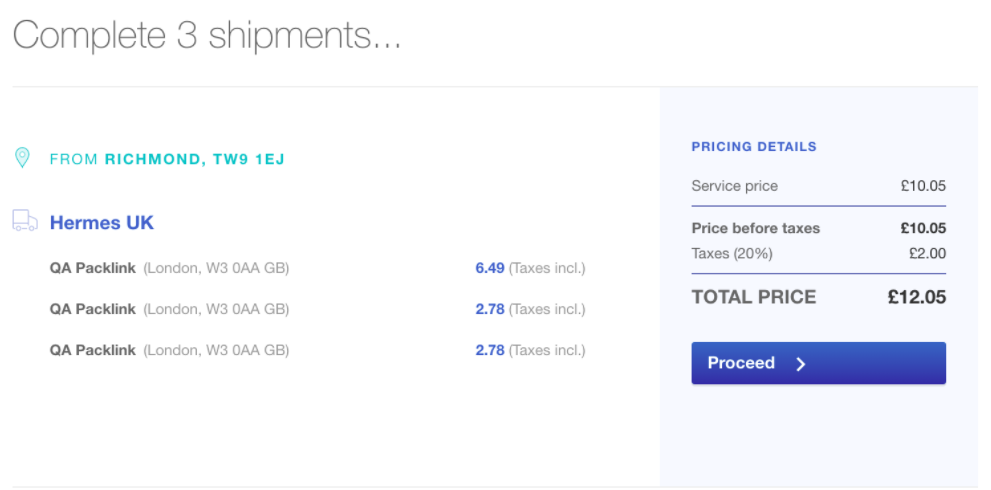 One of the things I had to quickly learn as a beginner on eBay is that not all items are shipped the same way. There are dozens of shipping options and best practices depending on the item's size, weight, and other particulars.
It's critical to know all the details about each product before posting your products to be purchased on eBay.
What is the weight?
Does it need to go into a package?
Does the packaging need extra cushioning?
Based on what you're selling, you'll find it helpful to have an assortment of boxes on hand to pack products of various weights, sizes, and shapes.
How eBay Shipping Works
When setting up your product listing, you have the chance to choose the delivery method for your purchasers.
Integrated domestic shipping carriers on the site include the following:
eBay delivery services
United States Postal Service (USPS)
FedEx (FDX)
UPS
DHL eCommerce
OnTrac
… and others
Quick Listing Tool
When you are using the quick-listing tool, here is how to configure the shipping:
On the posting page, navigate to the Shipping area and choose delivery or pickup.
Delivery: You choose a fixed cost, and eBay calculates the total amount based on the product weight and measurements. You can pay the transportation cost yourself.
Local pickup: You can elect to have buyers pick the item from your home or another site based on your personal preference. Of course, this option is only ideal for buyers in close proximity to you.
If you choose to deliver the item, you can change the shipping service by choosing among the many listed couriers, based on the final calculated cost.
You can choose to offer free shipping. You also have the option to choose a shipping rate or decide on a fixed amount.
The Business Tool
If you have a store, you can customize shipping using eBay's business tool. On the posting page, navigate to the shipping details area.
Under domestic transportation, you can choose a calculated or flat rate.
Calculated: The cost will vary based on location, and there is a calculator tool added to help you get an estimate on the site. ebay.com/shp/Calculator
Flat fee: Your items are shipped at the same cost for all purchasers. You can make a rate table detailing transportation charges for every zone.
Freight: You'll want to use freight shipping for large and cumbersome products.
Local pick-up:  This does not include delivery, as you will choose a place where buyers can pick up the item.
Freight Shipping
Your eBay merchandise can fall under one of three categories: unitary, general cargo, and bulk freight.
Unitary merchandise is moved in containers and packages or holders and is weighted in units.
Bulk cargo is shipped in large amounts with no packaging or containers. The method of transport itself serves as the cargo container.
Freight shipping on eBay involves moving mass cargo from one place to the next in large amounts loaded directly into a delivery vessel. Such merchandise often includes grains, oil-based commodities, and others.
FedEx®, USPS®, and UPS® are small package carriers that only take items of a certain weight limit. If you're selling bulk items, you might want to think about shipping and delivery with freight transporters.
It's the most affordable option for transporting items such as car parts, gym equipment, and appliances.
You can offer cargo shipping in two different ways: flat rate cargo or freight rate tables. In both cases, you'll want to provide the buyer with information upfront to streamline the shipping process.
Flat rate freight
This is an efficient method and it's the simplest shipping option for bulk cargo. You get to offer a fixed delivery cost or free shipping to all U.S. purchasers regardless of location or distance.
Freight rate tables
If location and distance affect your shipping costs, you can set different rates by giving buyers a freight rate table. For up to 100 buyer locations, the freight rate table grants you full oversight over what shipping costs you'll charge.
Bulk freight carriers
There is now an expanded list of bulk transporters that eBay can track to assist buyers in tracing their purchases from order to delivery.
Integrated domestic freight carriers on eBay include A Duie Pyle, AAA Cooper, ABF Freight System, AIT Worldwide, Averitt Express, Best Overnite, Central Arizona Freight, and many others.
Bulk Shipping on eBay
Transportation charges can add up fast, in some cases winding up higher than the total cost of the things the customer is buying … and far surpassing practical delivery costs.
Bulk shipping might be your solution.
With bulk shipping, you can pay for many labels simultaneously and print many labels at once in a single document.
It saves time and money, but before you get started with bulk shipping, you must change some of your eBay settings.
You'll need to …
Set default parcel
Choose bulk pay
Opt for bulk print
Get your items ready to purchase
Set default parcel
Your parcel size shows up on the details of the eBay sold item.
A parcel size is not given when you are using bulk shipping for the first time.
You will need to set it up manually, but by creating a default parcel size, it'll save you work each time you want to ship.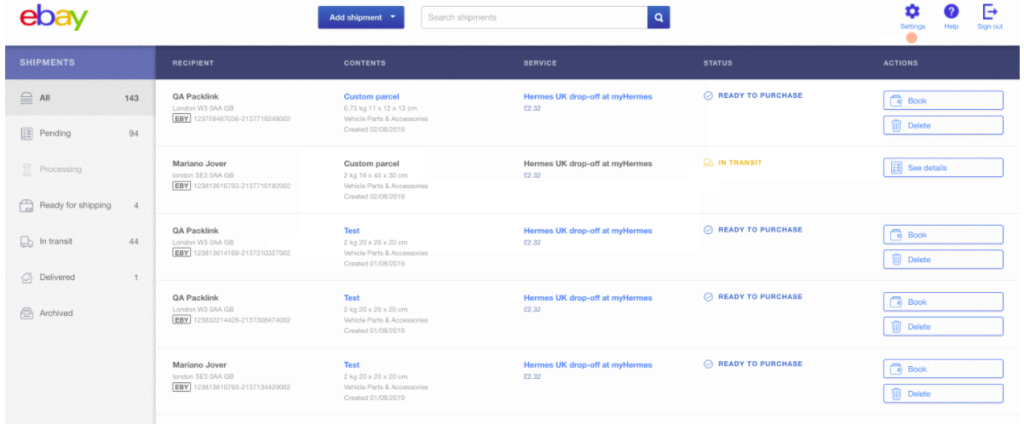 You can format and save your most common parcel sizes at https://delivery.ebay.co.uk/private/settings/parcels. You have the option of choosing not one, not two, but up to 16 different types of parcels.
You can name them and choose /change your default one among them as frequently as you like.
After you save your default parcel, all future shipments will use the selected parcel size.
Ready to purchase
It is not possible to bulk ship items that are in DRAFT status. All bulk shipping items should have the READY TO PURCHASE status.
If something is in DRAFT on eBay, it means the seller cannot specify parcel size and measurements. In that case, create a default parcel size or choose one from the drop-down menu and change it.
A DRAFT status item also implies that the source and destination codes are not specified. Click on COMPLETE, and then add or edit the postal codes.
Bulk pay
First, you must locate the ordered item that you want to pay the label for. You can identify the item using the buyer name, buyer's postal code, or eBay item number.
After identifying your sold items, you can proceed to bulk pay for batch labels at once. These shipments must be in READY TO PURCHASE and in the PENDING shipments tab.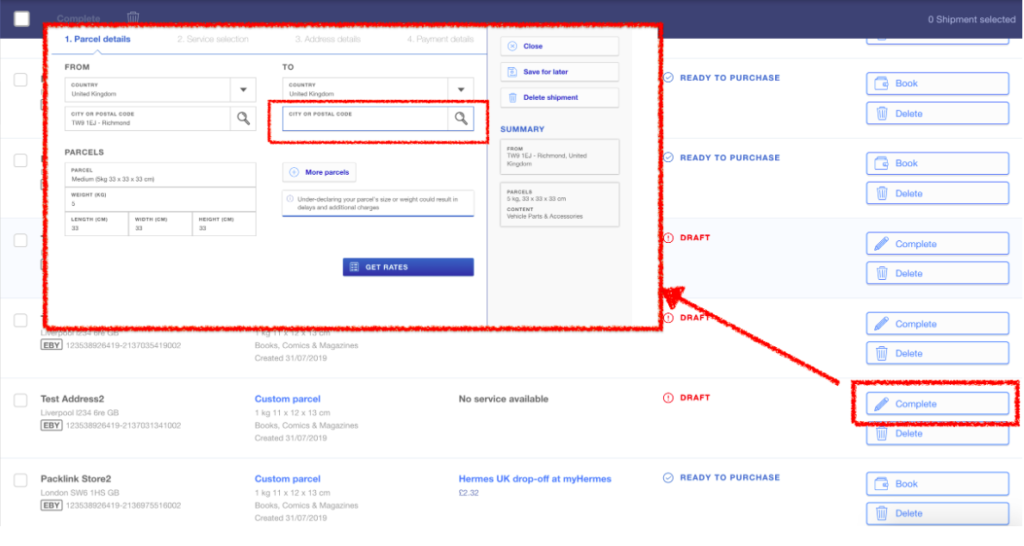 Choose several shipments at once and click on COMPLETE. Choose to proceed and add a payment method. The next step is bulk printing.
Bulk print
Now that you have selected multiple shipments and paid for them, your items should be in a READY FOR SHIPPING status.
Time for printing labels!
Choose all the shipments and click GET LABELS. You can then download all the labels in a single file.
Print the shipping labels to save yourself the journey to the post office. Your chosen carrier will pick up the shipping items from your door.
Combined Shipping on eBay
Combined Shipping is another form of bulk Shipping on eBay. If you are selling several items to the same buyer, you can send the products in a single shipment to save time and money.
Here is how combined shipping is done on eBay:
Log in to your eBay account.
Click on "MY EBAY," which will take you to the account page.
Select "Sold" in the left-hand menu.
Click the small boxes near the items that you wish to consolidate shipping for.
Make an invoice including the chosen things and change the delivery cost to the new sum.
Then click SEND RECEIPT.
Set Automatic Combined Shipping
You can likewise set your eBay to automatically combine shipment and remember the new rates when a buyer completes a purchase.
This default setting lets you publish the combined postage rates on your listed products to save you time adjusting shipping rates with every new order.
Buyers can see the combined shipping offer when they click on a product's shipping details.
1. On the eBay site, navigate to the COMBINED PAYMENTS page
2. Under "COMBINED PAYMENTS," choose "CREATE" or "EDIT."
3. Check the "Allow buyers to send one combined payment for all items purchased" box and click save.
4. You can choose flat shipping for the first product policy under COMBINED SHIPPING DISCOUNTS and then add slight increments for each additional item bought.
5. You can also choose a calculated combined shipping rate based on item weight. Navigate to the CALCULATED SHIPPING RULE section, and here you can elect to combine all item weights.
You can also combine weights then deduct a specific sum for each extra item bought.
6. Click "SAVE" to guarantee that your combined shipping offer goes live. Print the combined shipping labels.
Bulk Complete All Shipments
One other easy way to bulk ship on eBay is by bulk completing your orders and then paying for all labels at once. You can do this straight from your account's main panel.
1. Import shipping items using the option you best prefer
2. Complete the shipments by accessing the DRAFT or ALL sections and choosing the ones marked as DRAFT
3. Go on to adjust the size or weight of each item.
At the same time, you can also change the pre-selected courier and shipping service.
4. Select all the shipments you want to complete and ensure they all have detailed information, including the address and number of the recipient.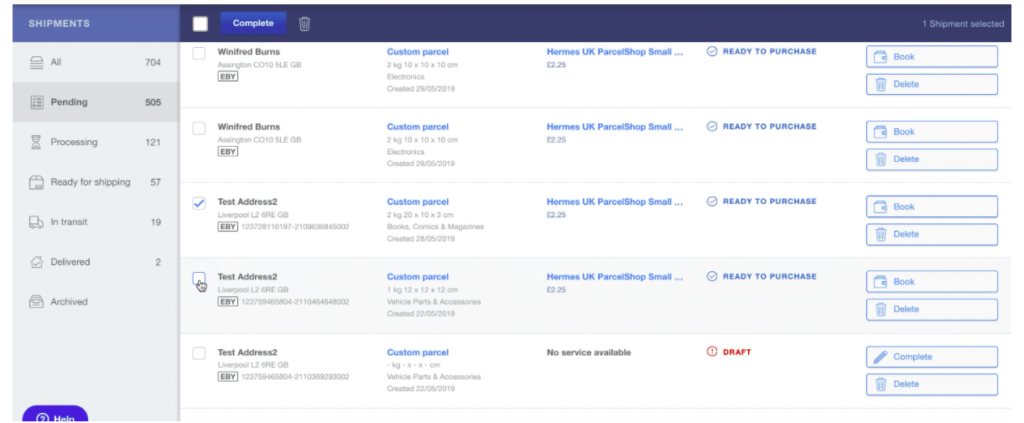 5. Proceed to pay for the orders by clicking COMPLETE.
6. Once the order is COMPLETED, print the labels.
The Best Carriers for Bulk Shipping on eBay
Bulk Shipping is a cost-saving approach to eBay shipping.
You can further maximize cost savings and profitability by choosing a budget-friendly carrier.
Your products will have different fees based on factors such as the distance the item is being sent, the fragility of the product, and others.
Use UPS for Domestic Bulk Shipping
UPS is eBay's top carrier for all shipments. They are competitive, and they offer free tracking for all shipping, including first-class mail.
eBay attaches the tracking number to all shipping records and notifies the purchasers that the item has been shipped. You also get to print your labels straight from eBay, so you won't have to stand in line at the post office.
Use USPS Priority Mail for Fragile Items
Priority Mail costs more, but it offers the best protection for fragile goods. Each of your packages will have $50 insurance to ensure you're covered in case of a mishap.
Use USPS First Class Mail for Clothing
eBay sells more clothing and shoes than any other item. These have the advantage of being lightweight.
Use USPS first class mail for speed and affordability. The order gets delivered to customers in 3-5 business days.
USPS Priority Mail for Bulky Items
If the item weighs less than 70 pounds, USPS Priority Mail gives you the best shipping terms and pricing for bulk items.
USPS First Class International for Exports without Tracking
When shipping overseas, USPS First Class International is the most affordable bulk shipping carrier without tracking.
This is a fast service, with delivery taking between a few days to a few weeks. The caveat is that your buyers will have no way of tracking orders.
DHL International for Exports with Tracking
For international bulk shipping where tracking is of the essence, choose  DHL or any other carrier (but not USPS).
DHL has a reputation for efficiency, affordability, and tracking in international shipping. They ship faster than USPS first class.
Bulk Shipping: Weight-Based vs. Flat Rate Packaging
For bulk shipping, the flat rate is a better option for weight-based packaging. However, this can only be advantageous when your products fit within the defined flat rate package dimensions.
If you are shipping small packages over a shorter distance, it would be beneficial to use flat rate over weight-based rates.
These packages are additionally ideal for extremely light shipments, weighing under two pounds.
Flat Rate Medium and Large Boxes are more affordable compared to weight-based long-distance shipments.
You have the advantage of saving even more when using an Envelope or Small Box.
In a nutshell
Bulk Shipping is a time-saving and cost-saving tool on eBay. You can bulk ship by choosing a default parcel, bulk pay, and then bulk print labels.
You can shorten the bulk shipping process by setting default shipping combinations or by bulk completing orders.
You'll be able to choose between a flat rate or a calculated rate for the shipping costs.
Taking the few steps in advance will make it far easier for you to offer bulk shipping for the best prices and the least amount of time.