"These people are driving you nuts; cancel, refund and block." This was the suggestion I got from Jose, a friend I consider a guru of selling on eBay, Etsy, and Amazon.
He boarded the eCommerce train a lot earlier than I did.
What does that mean? Basically, that he knows his way around things, including address changes and dealing with troublesome customers.
As it turns out, developing a successful marketing life on eBay is not that simple.
When a customer places their order in Brooklyn and a few days later wants you to deliver to Lagos, how you go about this request can make or break your success as a seller.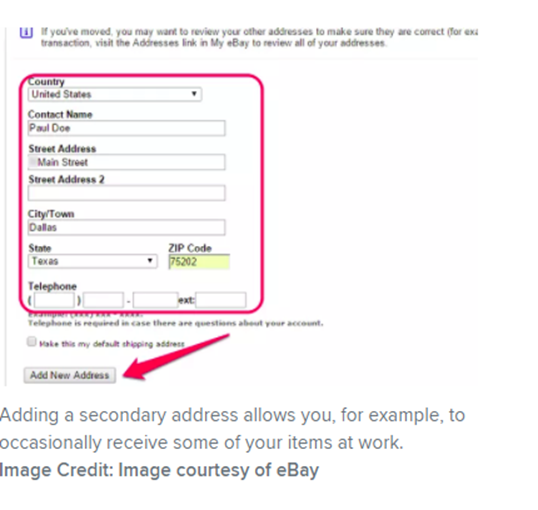 The Power of Reviews
When it comes to sudden address change requests, many sellers might opt for canceling, refunding, and blocking the buyer.
But as I have spent more time on eBay, I have learned that a good number of address changes come from genuine customers.
In these matters, sellers are advised to have zero trust, as scammers might be trying to take you for a ride.
But there is the risk of negative reviews if you keep canceling orders.
For those that try to help by manually changing the customer's address from the seller's backend—there is the risk of losing seller protection.
In short, it seems like a no-win situation. You are damned if you do and damned if you don't.
I once had a shopper who paid $270 for an item and afterward messaged me to change the delivery address. That appeared fine to me.
However, then I found that the new location had a zip that didn't match the city.
I checked in with my friend, Jose, and he said, "It has scammer written all over it."
I would have followed his advice to cancel, refund, and then block the buyer to forestall complaints of a failed delivery, lost package, or double charging.
But what about reviews?
In the current times, people are overwhelmingly relying on reviews for pre-buy research. Reports show that 80% of potential buyers read reviews before buying an item.
When something is purchased or sold on eBay, a rating of Positive, Neutral, or Negative reviews can be left with a concise remark to depict the experience of the exchange.
Over the long-run, when a seller accumulates sales, their feedback score may grow positively or negatively.
EBay Feedback can work to grow a business, or the opposite could happen, which would be adverse to the seller.
Negative reviews can cause significant damage to a business, including:
Lowered trust:
The star rating of a seller immediately affects buyer decision. A lower star rating can destroy any chances of repeat businesses and reduce your prospects for new business on the site.
Reputational hazard:
Negative reviews can irreparably damage your reputation. Additionally, a consistent barrage of customer complaints can even prompt eBay to investigate the matter and suspend you indefinitely.
Hard to recover from:
On selling platforms like eBay, sellers rarely recover from negative reviews. You may have to close shop and start all over again.
Both eBay and PayPal are known for suspending accounts that get too many negative reviews or chargebacks.
If this happens, your shop can even get shut down, and your items delisted.
Suspended eBay sellers cannot post new products or close deals.
Everything comes to a standstill, and all your funds in the connected PayPal account and other financial platforms may become unavailable to you until the matter is resolved.
If you re-register after getting suspended, you will probably be discovered quickly and locked out again because of eBay's robust database cross-referencing capabilities to keep out unwanted people.
This is why the best strategy for eBay sellers is that "the customer is right."
Yes, even when dealing with a problematic buyer.
It is a philosophy that saves time, assures future businesses, and saves you from negative reviews and the risk of account suspension.
There are times when you must make tough choices, though.
In the above situation, I sent the buyer a message to double-check that the zip and city codes matched up.
It turned out that she unintentionally had a wrong zip in her PayPal. She'd recently moved and forgot to update the billing address.
Problem solved!
Cancel and Ask for a Repurchase
When a buyer wants you to ship to a new address in cases like these, eBay's advice is to cancel and ask them to repurchase with the new address.
It happens all too frequently.
Maybe the purchaser gave you the wrong location, or maybe they need you to send the thing to their sweetheart's home for Valentine's Day or a birthday.
If you comply with the request and send it to the new address, and it happens to be a Paypal payment, you stand to lose seller protection.
What is seller protection?
It is a protection that normally covers sellers from having to shell out the cost of reversals, claims, and claims of chargebacks and items not received.
However, shipping to an unverified address does not have this same protection.
And scammers are well aware of this loophole.
If you get a change of address request and haven't shipped the item yet, ask the buyer to cancel the request.
At that point, advise them to add the location to which they need the item dispatched and reorder using that new address.
I did this, and it worked.
The address to which you ship the item should always be the same as the address on the transaction details.
To Cancel an eBay transaction:
Go to MY EBAY, then SOLD, or choose SELLER HUB, then ORDERS.
Identify the item to cancel, and from MORE ACTIONS, choose CANCEL THIS ORDER.
Choose PROBLEM WITH ADDRESS as the reason for cancellation and click CONTINUE to cancel the transaction.

After cancellation, a refund is automatically issued to the buyer.
You can then guide them on how to change their address and ask them to repurchase the item.
Help Your Buyers Change Shipping Address
For buyers, eBay doesn't allow the changing of addresses after placing an order.
Managing shipping addresses is done on the UPDATE SHIPPING ADDRESSES page on eBay.
Once a buyer completes eBay's checkout process and pays, eBay allows sellers to facilitate address change requests at their discretion.
Whatever you decide to do as a seller, make sure that you abide by PayPal transaction policies to maintain your seller protection.
Some sellers may automatically change a buyer's shipping address after a purchase, but most won't.
It pays to communicate with the buyer.
In my opinion, most loyal buyers are okay with canceling and repurchasing after adding the right shipping address.
In my case, I simply explained how PayPal requires us to send to the address listed for transaction protection, and that the only safe way to change the address was to cancel, then repurchase it at the correct address.
I often ask them if they would like me to cancel and refund, and most of the time, I get a quick reply.
The honest ones often go on to repurchase the item after the cancellation and refund.
The dishonest ones disappear after the cancellation.
Jose's advice makes sense to some extent. But my concern with blocking the seller because of the change of address is that the buyer can leave negative feedback on the transaction because they have already paid you.
I favor a supportive and proactive approach, helping buyers make the address changes from their end and preferably before making a purchase.
Changing eBay addresses: Procedure for Buyers
1. Change shipping address at checkout
The buyer's shipping address is the default that is given to sellers after they place an order.
However, buyers can always choose a new address, or add another one at checkout.
This is easily done by choosing CHANGE in the SHIP TO section. An address can be selected from the list of stored addresses, or a new one can be added.
To enter a new address.
Choose ADD A NEW ADDRESS
Enter the new address.
Select SAVE AS PRIMARY ADDRESS if you want to make the address the primary shipping address,
Click ADD
2. Update an old address
eBay stores all the addresses they've previously used on the platform, including their registration address and primary shipping address in the My eBay address section.
Remind buyers to regularly update their addresses and remove any that they no longer use.
Choose EDIT near the address.
Update with new details.
Click SAVE below the page.
3. Change the shipping address before placing an order
After order cancellation and refund, you can ask the buyer to change their address before repurchasing it.
The procedure involves the following steps:
Sign in to eBay and go to UPDATE SHIPPING ADDRESSES
Choose the EDIT link to edit an old address
Fill up the form and click SEND TO THIS ADDRESS to save all the changes made
4. Adding a secondary shipping address
Adding a secondary address helps buyers to periodically get things delivered at their second home, workplace, or to a chosen family member.
Sign in to eBay.
Navigate to ACCOUNT SETTINGS.
Choose ADDRESSES to add a second address.
Enter a second address by filling out the form to add a new address.
During the checkout process, eBay will display a link to the switch address tab to choose to send the order to a holiday home or workplace.
5. Change the shipping address in My eBay
You can add or update addresses in My eBay:
Navigate to ADDRESSES.
Click EDIT near the old shipping address.
Update the address and select SAVE.
At the same time, you can delete an old address by clicking DELETE.
Finally, you also have the option of making the new address your primary address by clicking MAKE PRIMARY.
6. Change shipping address after payment
Buyers cannot change the shipping address after they complete the checkout process.
It is up to you as the seller to decide whether to make the change on their behalf or chancel and refund.
But after shipping the item as a seller, nothing can be done.
If this has happened, you can advise the buyer to collect the item at the address they used at checkout.
Note that before the item is shipped, either the buyer or seller can cancel the order for a refund or repurchase.
Within the first hour of checkout, buyers are allowed to cancel the transaction.
After that time elapses, the only way to cancel the order is by requesting the seller to do it from their end.
These are the steps they would need to go through:
Go to PURCHASE HISTORY.
Identify the order you wish to cancel.
Select SELLER DETAILS.
Select REQUEST TO CANCEL THIS ORDER and CONTACT SELLER.
Explain why you need to cancel, and click SEND.
7. Change the shipping address in PayPal
PayPal can store multiple shipping addresses in an account, so users can easily select a delivery location when making a purchase.
These shipping addresses can include home, business, office, or other buyer locations in recent history.
Whenever a buyer changes this location, it is imperative to update the billing address, or shipments will be sent to an old address.
You can advise buyers on how to update PayPal shipping address:
Sign in to your PayPal account.
Select PROFILE and chose MY PERSONAL INFORMATION.
Select UPDATE in the ADRESS area.
Choose EDIT below the address that you want to change.
Enter the new address and click SAVE.
Changing eBay addresses: The Risks for Sellers
If you send the item to a new address requested by the buyer, they may file an item not received (INR) dispute and win … even if they received the item.
This happens all the time on eBay, even if you are tracking the item and have delivery confirmation.
EBay advises sellers to ask the buyer to agree to a cancellation/ refund and repurchase the item.
As mentioned previously, while this will protect you from the risk of an INR claim, it can make you susceptible to negative feedback.
To be safe, speak to the customer first before you cancel and refund.
Let them know that it may take a few days for the refunded amount to reflect in their bank account.
PayPal tries to make quick refunds, but unlike charges, refunds take a bit longer to reflect.
In Summary
As an eBay seller, you have the option to change shipping addresses to facilitate customer requests after checkout, but you risk losing seller protection.
It is better to communicate with the buyer and ask them to cancel, reorder, and provide the correct and current address.
Buyers can change and update their addresses in many ways.
This can be done at checkout, before placing an order, or by updating old addresses and adding secondary addresses in the My eBay addresses section.