Etsy is arguably the best online market store for vintage and handcrafted stuff!
I am a collector, and when I first learned about Etsy, I was elated at the chance of turning my passion into a money-making venture.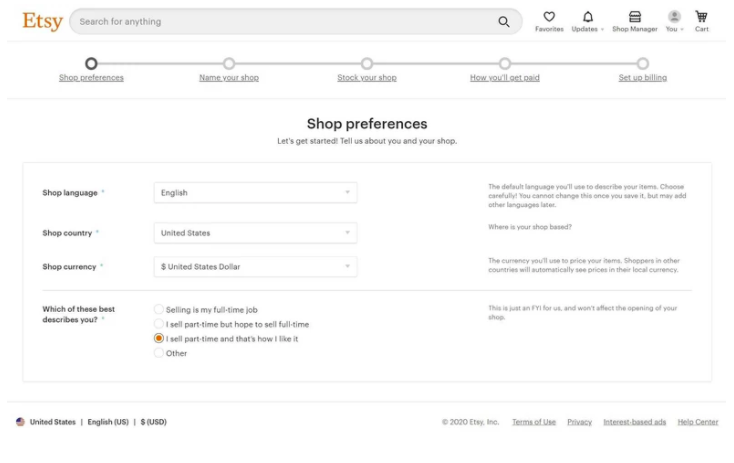 I joined Etsy many years ago. I have done good business on the platform, but the start was rougher than I expected.
One of the issues I always faced was cancellations because of old addresses. You see, Etsy doesn't make it easy for customers to see the addresses their items will be shipped to when they complete an order.
What do you, as a seller on Etsy, need to know?
This:
You can change the shipping address in Etsy as long as the product is not shipped yet.
The purchaser's delivery address submitted with their request can be edited when you buy a label.
This is a manual task, and many people forget to edit addresses when printing labels.
When you ship to the wrong address on Etsy, the package may get forwarded or delayed, and guess who has to pay additional postage fees?
Yep … you.
In the worst case, the package gets lost at the new address, and then you have to replace it, after dealing with angry and sometimes abusive buyers.
I would get many customers contacting me after purchasing, saying that they had an old address, or were sending items to a family or friend as a gift and wished to change the address.
Like many Etsy users, I didn't know how to change shipping addresses.
On the platform, when the address on their order isn't the one they need you to ship to, the clients leave you a note on the order with a new location.
But, there is no easy way to see the notes when printing labels.
And without a way to edit the address when they place their order (instead of weeks later when shipping is due), it's easy to overlook the changes and ship the item to the original address.
No automation with address changes
I still get these issues to date, so it's not a newbie problem.
Everyone who sells on Etsy wishes the platform would enable customers to change their address and show current delivery addresses on the order page and purchase history.
If that is too big of an ask, they should at least make it possible to change the shipping address before it is time for shipping.
I used to advise my clients to update their Etsy account with a new address when they'd inform me of address changes.
I would ask them to please do this before their order was delivered.
Sadly, I discovered that this didn't change the shipping address of the order! I also didn't have access to their new address despite my customers thinking otherwise.
I fail to understand why sellers should receive the buyers' obsolete delivery address when they have updated their account with a new location address.
And once they do that, the client believes that the changes they make are visible to us sellers. But it's not.
Alas, the order then ends up at the wrong address.
If you are lucky and the customer notifies you of a change in the delivery address, you will have to manually edit the address from your end when it's time to ship.
But if you are doing large orders, such as during the holiday season, this manual process can be a big bummer.
Imagine editing shipping addresses in one out of every three orders you get. When almost all items are shipped to a different address during that already-busy season of gifting, that could mean hundreds of orders …
And several sleepless nights.
High chances of losing sales
Eventually, I learned that asking customers to repurchase makes things a little easier.
It's both supportive and protective of the customer because account changes could mean that someone has unauthorized access to their account.
By asking buyers to repurchase, you could lose a sale, but it is much safer than blindly accepting all requests for shipping address changes.
Of course, when you get many orders, it's not easy to remember an address change request. The other risk could be that the change request is coming from fraudsters.
If there were a way to change the address when the order is placed, we wouldn't have these issues. 
In short, how should Etsy sellers deal with this?
You may find the suggestions below helpful.
1. Edit shipping label before purchase
Shipping labels get printed with the old address the buyer left at checkout.
Telling them to update their address in their account will not change the address after they have placed an order.
You may ask the buyer to cancel the order and then repurchase using the new address.
The problem with this approach, however, is that not many customers will be willing to repurchase after canceling an order.
So, consider changing the address manually.
Talk to the buyer via messages to get the new address. 
Ensure that you get the right shipping information.
Also, verify their personal information.
After the buyer submits the right information and verifies that they are authentic buyers, you can use this new information to update the shipping label.
You can update the buyer's address when creating the shipping label:
In the ORDERS page, choose GET LABELS on the shipment you wish to edit
Choose the EDIT button near SHIP to update the address
Input the buyer's new address and click save
Then complete the label purchase
You'll realize that manually changing the address when printing labels, though tedious, is much faster than dealing with cancellations and refunds.
2. Cancel the order and pray they repurchase
When the purchaser sends you their correct address, you can use the information to buy new postage.
But if you cannot reach out to them in time to get details of their new address, you can cancel the order and ask them to repurchase.
To cancel an order:
On Etsy.com, click the YOUR ACCOUNT symbol
Choose SHOP MANAGER
Go to ORDERS and SHIPPING
Click on the … (ellipsis) symbol close to the order you need to cancel.
Click ISSUE REFUND
Choose a Reason for giving a discount and add a discretionary Message to the purchaser
Near the order number, click the box for ISSUE FULL REFUND, then CANCEL ORDER
Choose the transactions to cancel, which can be all or a few items in an order
Click on REVIEW REFUND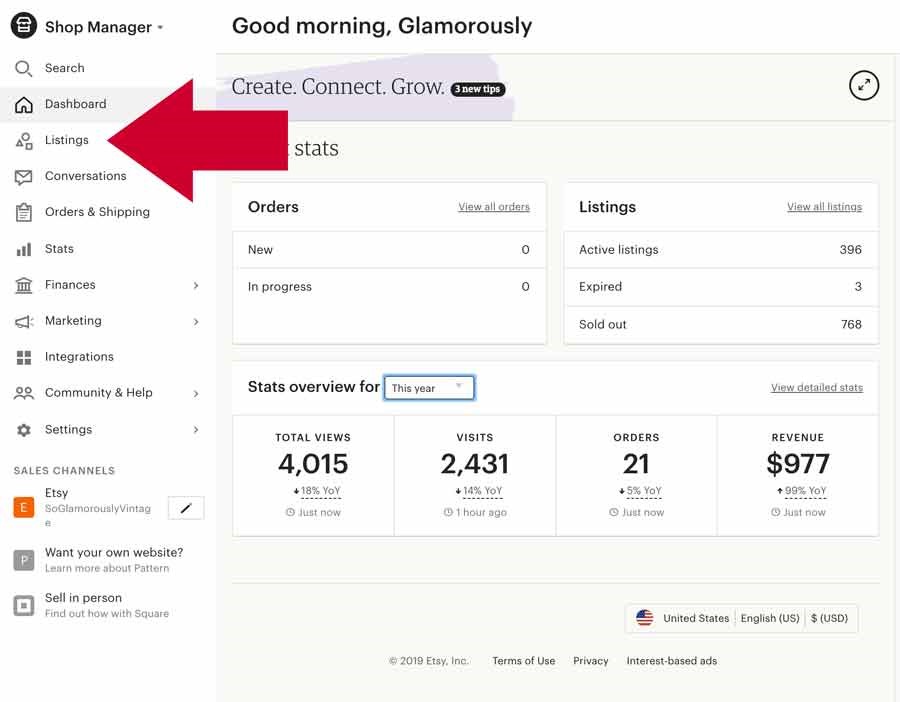 After you've canceled the order, you can ask the buyers to repurchase the item after updating their address.
Guide them on the address change process, if needed.
On the client's end, changing the Etsy delivery address during checkout is possible via the following steps:
Add an item(s) to the cart
Go to CART
Pick how you'll pay
Select PROCEED to checkout
Log in to your Etsy account or choose CONTINUE AS GUEST
Under SHIPPING ADDRESS, click CHANGE
Select a new delivery address or click ADD A LOCATION to enter a new location
Click SHIP HERE, then place the order
3. Ask the buyer to change their address everywhere
Approach 1 works fine, but only if you remember to edit the address when it's time to ship it two weeks later.
Approach 2 works if the buyer is kind enough to repurchase the item after asking them to cancel.
If you are rushing to fulfill a significant number of orders, the customer's change request will most likely get lost in the many orders, and you may end up shipping the product to the wrong address.
And if they are a typical customer, they won't repurchase the item after you cancel.
Unfortunately, Etsy doesn't enable the editing of addresses in the order section. A practical approach is to ask the buyer to edit the address in their Etsy account when they message you about an address change.
There are times when this doesn't work, and the edited address doesn't reflect in the current order. There is a possible fix to that.
Remind the buyers to edit the address on their payment platforms as well. An example is PayPal.
Etsy directly imports PayPal addresses, and so an address change on the marketplace wouldn't matter if the buyer still uses their old address on PayPal.
But beware that the postage fee may increase if the new address is farther away. You might have to ask the customers to pay extra fees for shipping after the delivery address change.
4. Use notes as reminders
Unless you are working full-time or have a few assistants, many sellers forget to change buyer addresses on Etsy after receiving the change request.
Solution?
You could include a note on the order with their new location.
That way, when it's time to print the label, you'll see your note and make sure to update the address on the labels.
Always look at your ORDERS PAGE when printing labels to avoid missing anything. Review any messages or notes from the customer.
You may also want to use colorful dot stickers on packing slips. I often screenshot and print off the order page and mark the orders with special needs.
This method simply makes for better organization.
Another idea is to place the new addresses in the notes field and print the private notes on the order receipt.
Notes are visible on the orders page, but not on the labels page.
5. Refund a shipping label
If you need to change the purchaser's delivery address after purchasing a label, you'll need to request a refund for the label and afterward purchase another label.
To get a refund for a label on Etsy:
Go to Etsy.com, then SHOP MANAGER
Choose ORDERS AND SHIPPING
If you cannot see the order on the primary tab, click on the COMPLETED
Below the shipping label number, click REFUND
You can get a refund for any label that hasn't been used to send a shipment. It should be less than ten days old for UPS, FedEx, and Global Posting Shipping, less than 15 days old for Canada Post, and less than 14 days old for Royal Mail and Australia Post.
When the refund request is accepted, you'll get an email from Etsy, and your Etsy bill will be credited with "Shipping Label Refund."
However, after you've shipped an order, there is no way of changing the address or getting a label refund.
I had one purchaser who noticed a week later that her address wasn't right.
Fortunately, she didn't live a long way from her old location. She agreed to my suggestion and reached out to the current occupants, and they contacted her when the package arrived.
After that, I helped her change her Etsy and PayPal addresses.
6. Buy a new shipping label
Sometimes, when all else fails, you must accept losses for the sake of positive reviews.
If the package gets returned because of the wrong address, you can update the old address with the new one and buy new shipping labels:
Sign in to Etsy
Go to SHOP MANAGER
Select ORDERS AND SHIPPING
Identify the order with a changed address
Click the van symbol to buy a new label
Below GET SHIPPING LABELS, change the address by clicking EDIT
Click REVIEW PURCHASE
Confirm that everything is accurate, then click PURCHASE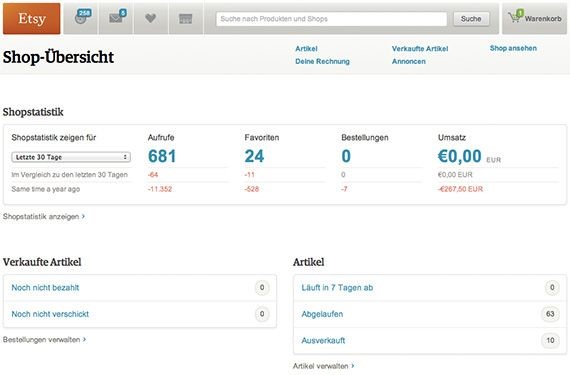 7. Change Etsy shop location
Sometimes you as a seller might need to change your shipping address, for instance, after moving to a new home in or out of state.
To change your Etsy store address:
Go to SHOP MANAGER
Find SALES CHANNELS and locate your shop name
Click the pencil image close to your store name
Under the store name, edit the store location
Doing this changes your location on the Etsy store page.
But if you need to change the "shipping from" address, follow these steps below:
Go to SHOP MANAGER and then LISTINGS
Identify the listing you need to edit and click Edit on the gear icon next to it
Go to SHIPPING AREA and then edit the address in the SHIPPING ORIGIN section
After you have changed the store address on your store page and made changes to the "shipping from" address, it would be wise to also update the location on your profile.
Your profile is a path for clients to get to your store, so it is crucial to keep that address updated.
Parting thoughts
There are many ways to change the shipping address on Etsy.
That's the good news.
The bad news is that all the processes are manual and require a personal system of organization.
All these tips will help you have more satisfied customers and less loss to deal with when it comes to shipping address changes:
Note down customer address change requests
Set personal reminders when printing labels.
Guide customers on how to edit addresses on their end to ease your burden.