Etsy is a great way to make money online and advantageous in many respects.
But shipping costs can be a thorn in the flesh for sellers on the platform.
When it comes to Etsy shipping costs, doing the math ahead of time can help you save money. It can also protect your business from being run to the ground by exorbitant shipping charges.
Etsy buyers are attentive to details, such as shipping costs. They compare, track, and analyze to the last cent.
If you are a seller whose expenses are higher than average, customers may desert your shop for another seller who doesn't have such high shipment costs.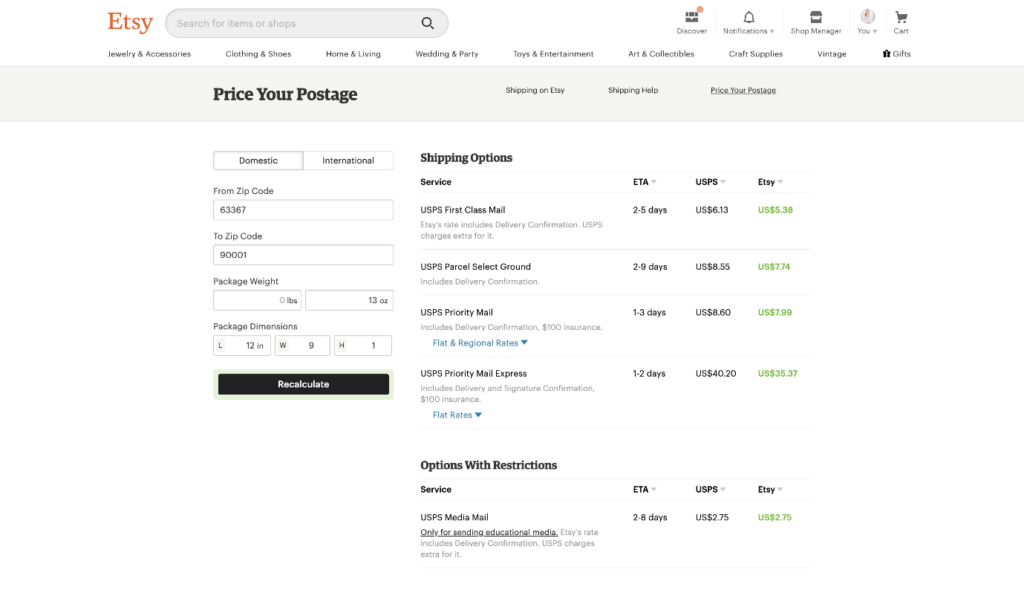 And on your end, costly shipping expenses may cause you to quit selling, as it lessens your overall revenue!
In short, you need to take control of those shipping costs …
It's integral for your business survival on Etsy.
Who Should Pay for Etsy Shipping Costs?
So, who should pay for those necessary transportation expenses?
In my store, I allow Etsy to determine the cost, which depends on factors such as the weight of my items and the dimensions of the package.
This works well for me because I sell various items that differ in size and weight.
My buyers pay for shipping
Many Etsy sellers, myself included, feel that shipping costs should be paid, wholly or partially, by the purchaser.
A lot of money and time goes into making handcrafted and custom items; it's only fair that the creator is not left to shoulder the full shipping costs.
Consider, by contrast, Amazon; this company has attempted to make free shipping mandatory; in turn, diminishing profits for their sellers.
Yet, margins are already so thin on handmade items that paying for shipping costs worsens an already dire situation.
This is why many "handmade" sellers prefer Etsy.
Sometimes I foot the bill
That said, there is a segment of online shoppers who only buy items that include free shipping. In that case, you may lose out on sales if you don't provide free shipping.
The thing is, "free shipping" doesn't necessarily need to be free.
How?
Do the math and include the cost of shipping in the total cost of the item. Doing so protects your profits, yet you can let the buyer know that shipping is "free."
But there's a catch …
If you plan to hide shipping costs by raising your product prices, it is essential to compare your items' sale price against similar products by other sellers.
You don't want your item to be way more pricey than similar products by other Etsy sellers.
Ultimately, though, your free shipping offer can work magic on your sales volumes.
Why?
Etsy has a search filter that allows buyers to find and choose items that have "free shipping."
This means you may get an increase in visitors (and sales) when you state that you are offering free shipping.
Beware, though, that when your transportation is incorporated, if you need to give a refund, there is no straightforward approach to refund your item without delivery costs.
Etsy charges a final value fee on shipping costs now as well.
Or we share shipping costs
Another option to lessen your shipping charges is to pay part of them if you feel your prices are getting excessively high and affecting your sales.
This could help get your costs in line, particularly when shipping items across states or continents.
The Major Etsy Shipping Classes
Priority Mail
I've heard new Etsy sellers say that they have to transport all their items via Priority Mail in order to get tracking details.
Nothing could be further from the truth!
If you are utilizing Etsy shipping labels, all your packages are tracked, regardless of whether you are using Media Mail or Priority Mail.
What Priority Mail gives is free protection against loss and damage. You can purchase extra protection when printing your labels if you want.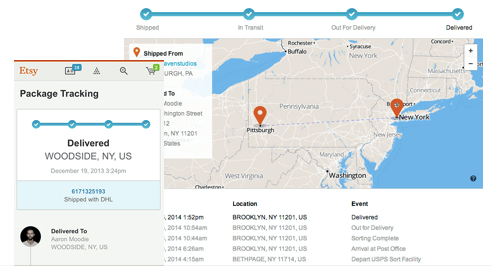 First Class with Stamps
Please do not try to mail your items by sending them first-class with stamps and sticking them into your mailbox.
I fully understand that the expenses for delivery through Etsy can appear to be restrictive when you are only sending a few stickers that you could slip into an envelope for a couple of pennies.
Be that as it may, this form of shipping doesn't give you any protection or tracking. In other words, there is no way to prove that you shipped the item.
If the item gets lost, or the purchaser leaves you a terrible review that they never got it, you have no way to demonstrate that it got delivered.
Fixed-Price Shipping
If you are selling similarly sized and weighted items, it would be wise to calculate standard shipping costs.
This can reduce costs for your purchaser or yourself … but it's not without its own caveats.
If the shipment weighs over a pound, shipping costs will differ by the distance the package has to travel. Each time the post office raises its costs, you should go in and change each posting.
How to Reduce Etsy Shipping Costs
These tips on Etsy delivery are valuable if you want to reduce shipping charges and find a less costly approach to sending products from your Etsy store.
Whether you are shipping bulky or light, far or near, these ideas can help lessen your delivery costs and increase your profits.
If you need a cheaper way to send your Etsy orders, you may want to consider researching more on Parcel Select, Media Mail, Regional Boxes, and Flat Rate Delivery.
1. Use Parcel Select for Multiple Shipping
So, let's start with why you ought to choose Parcel Select as one of the transportation choices when setting up your items on Etsy!

I have discovered that if I exclude Parcel Select as one of the alternatives for transportation, then Etsy will often choose a method with a higher delivery cost.
Parcel Select Lightweight is a brilliant option in contrast to Priority Mail. It lets clients send lightweight bundles from 3.5 to 16 ounces for a per-ounce rate, which works out to roughly half the cost of USPS, UPS, and FedEx ground shipping.
Online shippers usually transport packages via USPS Priority Mail, UPS Ground, or FedEx Ground. For shipments under 16 ounces, these services are likely to be costlier.
USPS, UPS, and FedEx rates for that weight start at $5 – $7 and go up, based on how far your package needs to travel.
By contrast, Parcel Select Lightweight's shipping rates range from $1.38 to $3.20 – saving you more than 50% of the shipping costs for small items.
Paperboard mailers sent via Parcel Select Lightweight give you an ideal combo of sufficient packaging and ease of transportation.
You can use Parcel Select for larger and high-volume parcels. Intended as a less expensive service, the amount you're charged depends on how much you presort and dropship.
Note that delicate things probably won't be the best fit for Parcel Select. Since the packages are shipped by road and switch offices regularly, they are handled more frequently.
If you do plan to send more delicate items, you will want to adopt safer packaging approaches to ensure they reach their destination in one piece.
2. Use Media Mail for all Media Items
Media Mail makes it possible to reduce shipping costs when delivering books, music, recordings, scripts, and practically everything that falls under the category of "media."
Media Mail shipping charges start from $2.89 at the Post Office and $2.10 for commercial pricing.
This is a terrific price, but note that you cannot use it to send non-media items. This is what you can send via Media Mail:
16-millimeter or smaller width films
Books (more than eight pages)
Printed music and test materials
Play scripts
Video and sound accounts
Printed educational materials and charts
PC media
Medical binders and loose-leaf pages
The Postal Service created Media Mail back in 1938 as a more affordable method to mail books; it was initially intended to ease transportation of learning materials through the mail.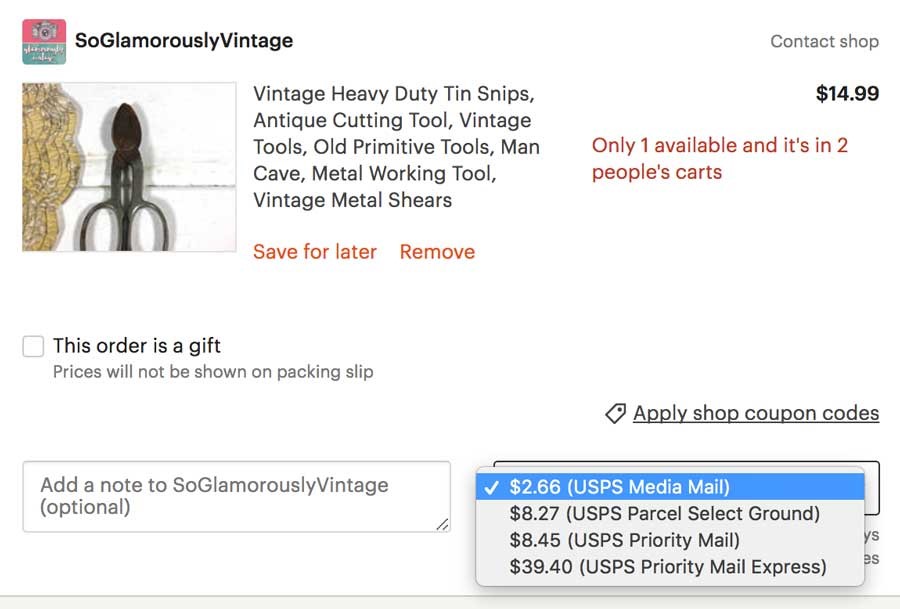 Media Mail shipping weight is restricted to 70 pounds … rather than the 16-ounce restriction of Parcel Select Lightweight. It's additionally a decent alternative for bulkier shipments that may include large books and related items.
However, remember that the U.S. Postal Service has a right to review all things sent through the Media Mail shipping classification.
What does this mean?
It implies that, when you transport a package through Media Mail, you in effect consent to have its contents inspected.
If the postal service finds that you have packed things that are not allowed in the classification, you could be accused of mail fraud. Also, you or your customer may be charged for Priority Mail.
3. Use Flat Rate Shipping
I use flat-rate shipping boxes every time I need to send something bulky to a customer.
You can order these boxes for free from the USPS, and they greatly help reduce shipping costs for custom items on Etsy.
There are 3 sizes; Small, Medium, and Large. Larger boxes cost more to send, naturally.
There is no simple way to choose Flat Rate Priority as an Etsy delivering option.
If you realize you will need to send an item via Flat-Rate Priority, you should choose flat rate shipping, and then indicate the cost of the flat rate box.
You can order the USPS Flat Rate boxes online or pick them up from your local Post Office.
If you are sending your Etsy items via Flat Rate Shipping, these boxes often get delivered within 1-3 business days for a standard fee, no matter how far they are shipping.
You get free tracking as well.
Smaller Flat Rate Boxes cost less compared to bigger ones. You might want to choose the smallest box that can feasibly accommodate your items, without causing damage to the product, of course.
When I started using priority shipping, I used to think that the service was limited to flat rate boxes. I came to learn that you can use any box to ship your items, so don't restrict yourself to these flat rate boxes.
You may be able to lower shipping costs even further by using your own boxes.
The main advantage with USPS Priority Mail Flat Rate shipping is that it's easier to anticipate shipping costs. You won't have to do long calculations of weight, dimensions, and shipping zones to get your shipping estimate.
4. Regional Rate Boxes
Regional Rate Boxes can be even more affordable than Regular Priority Mail or Priority Mail Flat Rate Boxes.
With measurements similar to that of a Priority Mail Flat Rate and Medium Box, Priority Mail Regional Rate Boxes can save you up to $3.55 per package.
These boxes are fantastic for transportation of bulky things to buyers who live in relatively close proximity to you!
It costs nothing to get Regional Rate Boxes. You can get them free from your local post office or by ordering online at usps.com.
I once needed to send a huge item to a customer in the same state where I live. I fit the product into a Regional A case. With the regional box, my shipping cost was under $12. If I had used Priority shipping, charges would have been about $18.
If you have a small to medium-size order that can fit into one of those cases and you are not delivering interstate, consider using regional boxes to save on shipping costs.
5. Print Your Shipping Labels on Etsy
This should actually be one of your first cost reduction strategies for Etsy shipping.
Printing your shipping labels online is an easy approach to save money on all your Etsy shipments.
Etsy shipping labels let you transport orders with FedEx, USPS, or Canada Post right from your Etsy shop.
When you buy a shipping label for an order, Etsy takes it upon itself to ensure it is delivered. Your only job is to print the label and prepare your ordered item for delivery.
Printing shipping labels guarantees you a 30% discount on all shipping costs. You can ship anything across any state or continent.
Using this method, I have sent packages (of less than 150 lbs) to customers countrywide faster than standard shipping methods.
You can buy and print the labels directly from your Etsy account. You never need to walk into the post office and stand in those frustratingly long lines.
You simply have to print the labels, secure them onto the package, and drop them in the mail bin.
Done!
In summary
Etsy shipping costs can directly affect the profitability and future survival of your business.
When shipping costs are high, your items become discouragingly costly—buyers are forced to find other sellers that offer free or lower shipping charges.
You can reduce shipping costs by splitting the shipping charges with the buyer.
You are also guaranteed greater cost savings by using Parcel Select, Media Mail, Flat-Rate Boxes, and Regional Rate Boxes. Depending on what you are shipping, these options are ideal and cost-effective.
Further, printing your shipping labels on Etsy guarantees that you will slash shipping costs by up to 30 %.
Good luck in watching your Etsy sales take off and your take-home profit increase like never before!