Etsy vendors know that the experience of their buyers doesn't end the moment they have ordered a product online.
In some ways, it's only the beginning.
The next critical step in the buying cycle is the packaging, which is your chance to fulfill Etsy orders in a manner that boosts customer satisfaction …
And sends them back to you for more.
The packaging you use is essential for the client experience. However, it's considerably more than that.
In this day and age, packaging has become part of the product.
It might only catch your customer's eye briefly, yet it will define how they see and talk about your product for a long time.
There is stiff competition in the online market, and there are benefits for sellers who have their packaging planned out according to their customers' needs.
Product packaging improves results
The right packaging likewise ensures the product's safety during travel, in stores or warehouses, and even after delivery to customers.
In short, good product packaging secures the products you sell.
Etsy sellers are generally already investing more energy (and money) in innovative work for the unique products they offer.
Additionally, some carve out a budget for promotion in an effort to publicize their products to their most probable clients.
However, sellers can profit incredibly more from focusing more attention on the packaging they use to secure their products.
Why is this important?
Damage to the products can occur during delivery, while in stores or storage spaces, and even in the hands of shoppers.
This outcome may lead to lost income.
Most of all, however, it destroys the customer experience.
Honestly, there is no buying experience more displeasing than an item delivered damaged because its packaging was not solid enough to withstand the typical wear and tear of shipping.
Product packaging attracts attention
Brands frequently sell more products because of the product packaging they use.
Naturally, it is expected that face wash will clean an individual's face, and toothpaste will clean their teeth.
Notwithstanding, product packaging is the first thing that customers notice about a brand product. Packaging that catches their eye and features its product's worth regularly sells more due to the level of attention it attracts.
Product packaging is a sneak peek into the quality of a product.
The respectability, quality, and authenticity of products are by and large depicted in their packaging.
A simple method to improve your customers' experience with your product is to help them think about your product as having superior quality … like what they typically buy in a retail store.
If you sell your item in a plain paper package, what influence would that have on customers' trust in buying it, especially if they have never used it before?
Without a doubt, they would scrutinize its quality and authenticity.
Next time around, they will probably go with another brand … with product packaging that reveals more about the product.
When product packaging is alluring, authentic, and explains about the product to buyers, the item that it houses typically gets more sales.
Product packaging educates potential purchasers
For the most part, purchasers appreciate companies and brands that include messages on product packaging that serve to
Enlighten them regarding the product
Offer significant data about the item
Accurate, reliable data is useful; knowledge about what they are purchasing helps buyers feel more confident about their decisions.
Good product packaging might sound like an additional expense, but the cost actually balances out.
How?
Many customers like to buy products that look pretty when shown in their homes. This is particularly evident if a product will remain unopened in its original packaging for a while.
Customers prefer to spend money on products from organizations and companies they believe align with their beliefs and qualities.
When you present a great look and good quality on product packaging, potential buyers will often not hesitate to spend more money to purchase products from you.
If you think that investing more in product packaging does not merit your time or money, consider the lost income that could result from poor packaging.
Inexpensive packaging ideas for Etsy sellers
Finding the correct packaging is consistently challenging, yet searching for the most affordable packaging options can be even more time-consuming.
Fortunately, we have put together several great ideas on how to create custom packaging without totally draining your wallet.
Here are 14 inexpensive packaging ideas to use for your products on Etsy.
1. Packaging Inserts
Packaging inserts are a proven strategy for improving customer experience by including a personal note with every delivery order.
And they don't need to cost a lot.
You could retrofit a business card's design and turn it into a package insert that delivers your thank you message.
Print several of them and handwrite custom notes on a case-by-case basis. You can print business cards for a couple of cents each.
You can use postcards as well. They're large enough to compose a note on.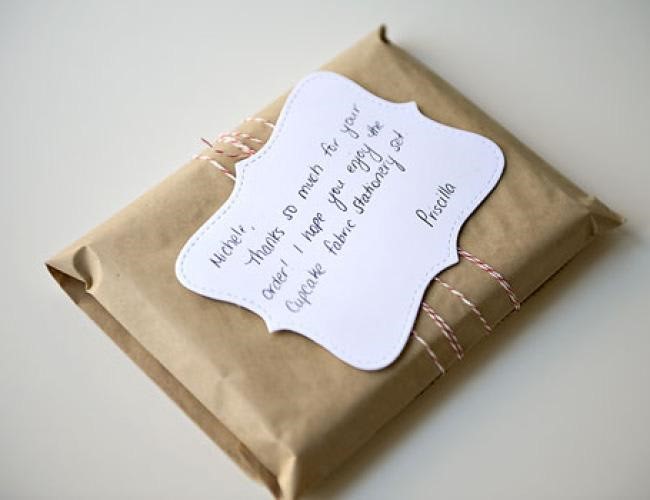 The manually written note strategy is turning out to be an incredible trend. Numerous online retailers say they've had great success with this.
Maybe you love the idea, but it appears to be a ton of work.
You don't love the idea of being up until 1 a.m. to get orders out, and just thinking of composing a card to say thanks for each request just makes you tired.
If you choose to do this, the note doesn't need to be lengthy. I have built more robust bonds with customers just by writing the client's name inside the package. 
Costs range from $0.20 – $0.45 per unit based on added customization.
2. Poly Bags (Plastic)
Among perhaps the most practical packaging alternative is the poly pack (or plastic pocket sack).
It is made out of plastic film material and is generally utilized for food, synthetics, and magazine packaging.
Poly sacks have likewise grown in mainstream popularity for product packaging as they are almost effortless to pack and prepare.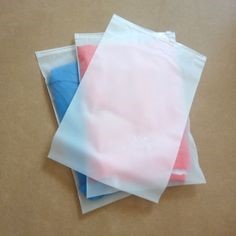 The cost can range from $0.03 to $0.14, depending upon the size, style, and the number of poly bags you need to get.
3. Paperboard Boxes
The paperboard box is a favorite choice for many sellers. This product packaging offers flexibility in materials, shapes, style, and printing while at the same time minimizing expenses.
It is likewise lightweight.
Even though it will take time, you can cut it into any size to fit your product.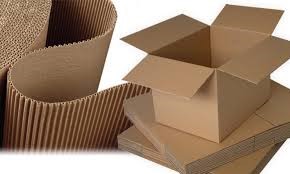 Paperboard comes in various designs and materials, from SBS paperboard to ecofriendly options.
A reasonable cost for standard paperboard boxes is ordinarily $0.30 – $0.60 for each unit.
Adding extra customizations, including foil paper, window fixing, two side printing, and unique colors can increase the cost up to a dollar or two.
4. Paper Bag
One other straightforward and cost-effective Etsy packaging choice is paper bags.
Numerous online sellers have settled on paper sacks to package their apparel for its practical nature and design.
A few supermarkets use paper sacks to bundle their food products to reduce pollution and mark themselves as eco-friendly businesses.
Paper packs can also be utterly adjustable in style, printing, and shape without busting your budget.
Expect paper bag costs to range from $0.25 – $0.35 per unit based on added customizations.
5. Container and Bottle Packaging
Finding the proper packaging for restorative creams, fluids, and other more personal products can be a costly and time-consuming task.
Consider using bottles and containers for cost savings.
Plastic and glass bottles can be a reasonable alternative when shipping beauty products large scale. They are reusable, easy to package, and use minimal space.
The cost range is between $0.65 – $1.00 depending upon the size and type of the item you are selling on Etsy.
6. Corrugated Boxes
Corrugated cardboard is the most well-known material for packaging.
It has become a mainstream packaging option for online businesses that sell physical products.
You can use it for delivering pretty much anything … from shoes to decor to art … and anything else.
Mailer boxes commonly include layered material to shield the products from getting damaged during delivery, yet you can also customize them to make sure the design will attract customers.
Layered boxes are completely adjustable, like paperboard, aside from having a more significant level of strength.
They are doubly useful as they can serve as both the retail and delivery box.
The cost range is $0.75 – $0.95 for standard sizes, style, and printing.
7. Plastic Boxes
You can use plastic boxes for many products that you might be marketing on Etsy, from paper clasps to candles.
Plastic boxes are stronger than paperboard boxes and can withstand extreme conditions.
They are particularly useful for delicate products. They are also attractive because a customer can clearly see the item within the packaging.
Printed plastic boxes can cost from $0.75 – $0.95.
8. Side Gusset Bags
Famous among the tea, espresso, and preparing industries, side gusset sacks are intended to maintain a steady temperature inside the packaging to protect more sensitive products from microbes.
Likewise, it has become popular as a reliable packaging choice for bedding and garments to keep these items secure and tight.
For dependable sealing, food is regularly bundled in these sorts of sacks to double the shelf life and keep it from spoiling.
The price range is $0.80 – $2.50
9. Rigid Boxes
These are the containers you see in numerous top-of-the-line retail and hardware stores. They provide the most attractive and tough packaging for items.
Think about the iPhone 7 packaging box, which is like a wooden box.  A rigid tube is made out of dense paperboard many times thicker than the standard paperboard.
They are a little costly yet reasonable enough if you want luxurious packaging to impress your clients.
Rigid boxes can cost from $3.00–$5.00 apiece or $6.00–$30.00+ for exceptionally styled options. 
Naturally, you will opt for this only if the item you are selling on Etsy is worth the more expensive packaging.
10. Uncommon Materials
It's tempting to go with fancy options for packaging your products; however, basic, cheaper materials frequently work just as well.
It's the innovativeness they're utilized with that makes them work.
So, don't get too restricted in your materials.
I once used cut-up raffia in a gift box item. It was a box of gold, frankincense, and myrrh, so the raffia was intended to look like straw from the trough.
My buyers loved it.
Furthermore, the raffia was unquestionably not among your more standard packing materials.
Here are a couple of uncommon packaging materials that you can buy inexpensively:
Aluminum foil (not for outside bundles)
Butcher paper
Twine
Old, hiking  maps
Fleece or yarn
Other Product Packaging Options
If the products you sell on Etsy are larger, you might just need some bigger boxes for shipping them.
Here are a few ways to get those boxes without breaking your budget.
11. Family and Friends
Another approach you can take to finding free boxes for product packaging is by essentially asking your loved ones. 
Text them or call them to check whether anybody has extra boxes from recent deliveries or moving.
You can likewise post a status on Facebook, Twitter, or Instagram to tell companions that you are searching for moving boxes.
12. Retailers Near You
You can be confident that giant retailers will have a large number of boxes hanging around in the back. They're called "big box" stores for this very reason.
With shipments coming on a regular basis, you might have the chance to discover pretty much every sort of box at your neighborhood store.
A few good options to look into include:
Walmart
Costco 
Sam's Club
PetSmart
Home Depot
Best Buy
Target
K-Mart
Office Depot
13. Neighbors
Whenever you're thinking about where to get packaging boxes, check your neighborhood online gatherings.
If you haven't joined the Nextdoor.com neighborhood platform yet, you ought to. You will discover helpful information about your community (city news, neighborhood updates, and nearby services ).
You can likewise find heaps of free stuff being offered by your neighbors. Generally, this includes moving boxes.
The platform also has a "Classifieds" page committed to merchandise available to be purchased and free giveaways.
Consider this as a major online yard sale in your area.
If you don't see any free moving boxes posted in the Classifieds area, post what you're searching for, and neighbors will react quickly.
14. Use Eco-Friendly Packaging
Eco-friendly packaging alternatives make for inexpensive and reusable delivery solutions made from recycled material.
Your clients will particularly appreciate the green/ sustainable packaging that can be easily recycled and limits their carbon footprint.
Studies show that almost 75 % of buyers are happy to pay more for recyclable packaging.
This means that your brand image will also improve significantly by using sustainable packaging. You will appeal to a large crowd of environmentally-conscious shoppers.
Summary
Packaging has become an area of focus for the client experience.
It improves loyalty and elevates customer satisfaction. It can even turn out to be an added boost for your marketing.
In any case, stylish packaging doesn't need to be costly. You only need to consider new ideas. 
Start with the suggestions above and you'll have plenty to work with.